Over the Lake, 12×12 inches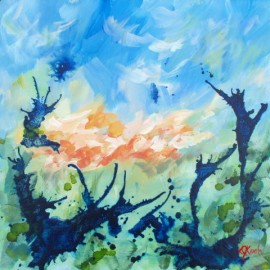 About a month ago, my sister and I took a day trip to Geneva on the Lake, Ohio. For as long as we've lived in the area, neither one of us have been there. The day was cold and windy, unseasonable for August but typical of this past summer.
The view over Lake Erie and the shoreline was unlike anything I'd seen. The sky and water were strange heavy shades of blue and green that I'm not used to seeing. The tiny sliver of sky between them was glowing. The wind was blowing hard enough to almost knock us over. The cumulative effect was moody and surreal.
I haven't been able to get that scene out of my mind. This painting is based on that windy day and remarkable colors. My interpretation of it is much lighter and brighter, but the windy feel comes through.
I've done this scene in several versions so far and find it fascinating. A larger version is almost finished; I want to try another one or two to capture the moody dramatic colors.
This painting is 12×12 inches on canvas, acrylic paints and ink. The photo below shows  a couple of quick sketches done using gouache on paper that I did before starting on the canvas.